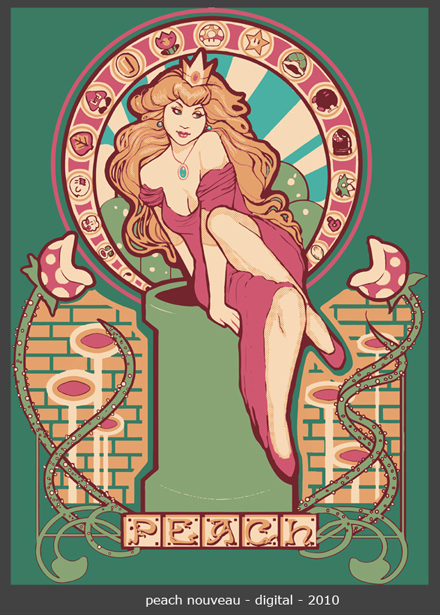 Gooood morning! I have a lot to be happy about this Saturday — I've been playing Spyro the Dragon all morning, the weather's looking up, and I'm seeing some real improvements in my foot injury! So I'm going to share the love with some great shout-outs to some cool people. This is not even close to a comprehensive list of cool people I know, but it's definitely the ones who've sent me links most recently:
1) That gorgeous Peach illustration is by Megan Lara. Read Fan to Pro's interview with her here, or buy her Zelda Nouveau shirt here.
2) Speaking of Fan to Pro, I discovered it a month ago and it has become my go-to spot for geeky career advice, so much so that I asked author Steven Savage if I could write a few columns there! My second guest post about finding a job the geeky way is up. You can read the first one, too.
3) Check it out – Charles of Beneath the Tangles put up his Anime and Religion Survey results, illustrated with infographics by me! It was a really fun project, and I'm looking for more people with anime related data to collaborate with.
4) Another Charles, the Anime Anthropologist, has been seriously getting me back into Gundam Wing with his post on Duo as an ideological shinigami and his GW live-tweets. Follow him on Twitter to join in the fun.
5) I am reviewing Disgaea for Japanator, and — spoiler alert — it is the worst anime I have ever seen. However, Patches tells me that he's reviewed worse — Itsudatte my Santa! If you've seen both, which is worse? Or do you have a new challenger to suggest?
6) I forgot to link to the third episode of O-talk, the podcast I do with Otaku Dan. Or I should say I did do, but I've been swamped with my job lately. He ended up doing episode 4 by himself, so give him some love!
7) And last — have you ever thought the product placement in anime is a little fishy? Check out It's a SOMY! (via the_patches)
P.S. I started updating my Tumblr again, so if you're interested in posts about my personal life and want to be Tumblr friends, come visit. Have a good weekend!