3 March 2014 | 1 comment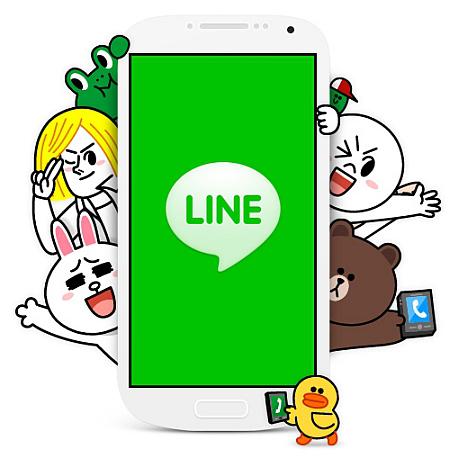 Otaku Journalist has certainly become a group effort these past few weeks! Today's guest post is from Tony Yao of Manga Therapy, while I continue to work on the book.
After Facebook purchased Whatsapp (my response: what's Whatsapp?), a lot of savvier users than myself began hunting for a new messaging app to use. That's when Tony told me about LINE, (my response: what's LINE?), a messaging app that seems perfectly suited to anime and manga otaku interests. As a technology journalist by day, I thought it'd be awesome to introduce some otaku tech to my readers.
Check out Tony's primer on LINE, what it is, and he, as an otaku, loves to use it:
---
When legal anime streaming site Crunchyroll was acquired by the Chernin Group last year, Chernin Group President Jesse Jacobs had this to say about otaku:
"Japanese pop culture fans are early tech adopters and passionate. That's the future."
If that's the case, then LINE is the future's mobile messaging app of choice. Made in Japan, it's an app that reflects a generation that has grown up with anime and manga fandom via the Internet. It has become a global phenomenon with a user base of over 300 million people across the world.
LINE was originally developed by NHN Japan, the Japanese division of the Korean internet corporation, Naver, in 2011 after the events of the Tohoku earthquake. It was a response to the people of Japan not being able to connect with friends and family members after the tragedy. The service offers free phone, messaging, and video call capabilities.
Since its debut, LINE has grown immensely. It reached 100 million users after only 19 months. 6 months later, it hit 200 million users. Today, users in over 231 countries have adopted LINE.
LINE Corporation hasn't stopped there. The company opened up a set of stores filled with merchandise starring its mascot characters in certain Asian cities. LINE is one of the top non-game mobile applications on both the App Store and Google Play overseas. The service debuted in the U.S. around January 2013 and is looking to combat Facebook and other social networking services for market share.
When asked what makes LINE popular, almost every user will tell you it's the stickers. Revolving around a cast of cute and funny mascot characters, the main quartet consists of a rabbit named Cony, a bear named Brown, a round-headed figure named Moon, and a pretty boy named James. All four are given background stories and unique character traits. The sticker sets often portray these characters emoting wildly, so you can use them to express exactly what you mean. This is a sample chat I had with a friend a while ago: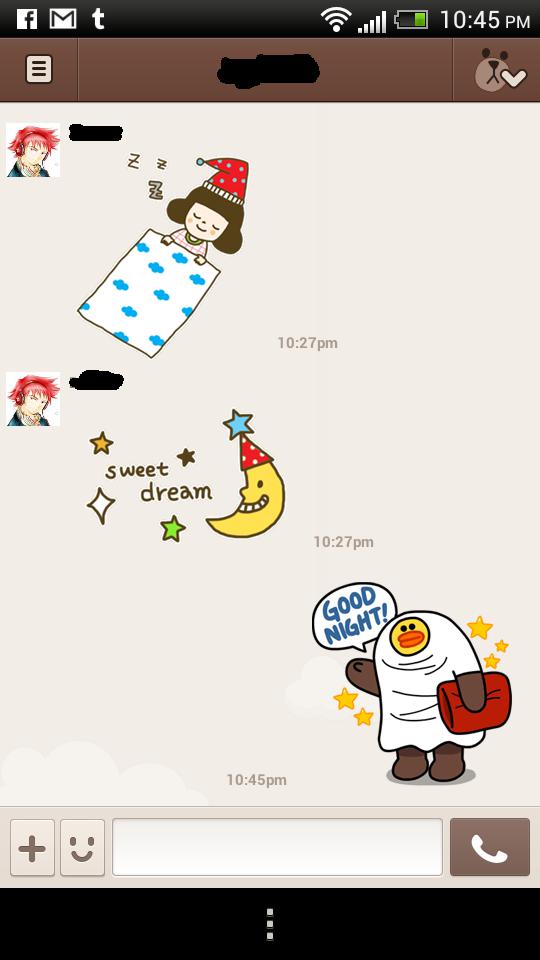 Yes, ending a conversation with a bear that looks like a body pillow is a great way to wish someone good night. The LINE characters also star in two original anime series. While there are emoji and emoticon options on LINE, the stickers are the best way to get your feelings across in the quirkiest and most adorable way possible.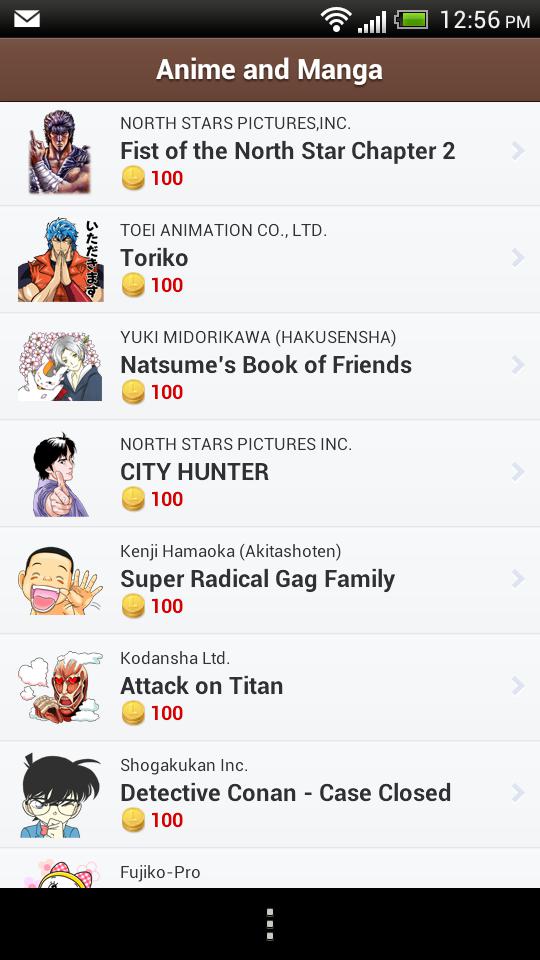 Now here's the fun part for otaku with smartphones: LINE has stickers featuring anime/manga characters.  Attack on Titan is on there, so you can show off your love for someone with a sticker of the Colossal Titan with hearts in his eyes. Old classics like Doraemon are on there as well. Even notable series like Hataraki Man, Initial D, and Thermae Romae have stickers on LINE.
There are a good amount of anime/manga stickers for U.S. audiences. However, some are only available in Asia due to how popular certain series are over there. The best example I can give is Gintama, where there are two sticker sets from Sunrise available only in countries like Malaysia. As a Yorozuya fan, it breaks my heart just like Kondo Isao being rejected by Tae Shimura.
LINE sticker sets don't come for free, as they are worth about $2 a set and are paid using "coins" as virtual currency. However, LINE does offer a few free starter sets for use. They also have free promotional sticker sets available from time-to-time. I can tell you that the stickers are very addictive to play around with and you might be encouraged to shell out a few bucks for the anime/manga stickers if you become a heavy LINE user.
Another popular feature about LINE are the games. They are free-to-play games that have simple mechanics and design. LINE games are similar to other mobile games out there. Yet why are they downloaded and played a lot? According to Akira Morikawa, CEO of LINE, in VentureBeat:
"For us, our games are casual games, but we try to make sure that they're attractive enough that they stick with people for a long time. We're using a system which allows users to compete against their friends. We reset high scores on a weekly basis. In the beginning, many users just enjoy the games alone, but soon they become more competitive, which leads to an expanding user base and eventually increasing revenues."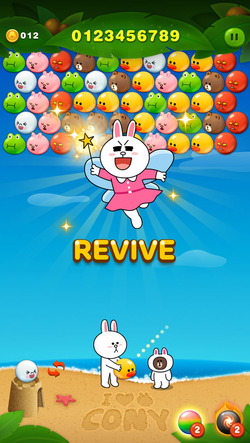 I've played a few of these games and found them enjoyable. Some of my fellow otaku friends have become addicted.  LINE POP, LINE Pokopang, and LINE Bubble, arguably its most popular games, help users build connections and friendly rivalries with their contacts.
There's also a variety of other fun LINE apps to complement LINE: LINE Camera, LINE Card (an e-card design app), LINE Tools, and even a LINE Antivirus app (only available for Android phones).
I know you may love using Facebook, Twitter, Instagram, Snapchat, etc., but for me, LINE is a worthy addition to my internet life. Using LINE makes me feel like a living cartoon character chilling in reality. It speaks to the anime character/otaku in me. We all know Asian media is sometimes an awesome part of a Western otaku's life and this is another example of it. The U.S. invasion has been slow and steady, but LINE received attention in the American music world when it was featured in Big Sean's "Guap" music video.
If you want to sum up LINE in a nutshell, it's Skype evolved. Chat, games, anime/manga stickers with emotion, and free calls—it's the perfect app to show off your appreciation and passion for your fandom. Long lines may be a pain at anime conventions, but this is one LINE that every otaku will find worth it.
---
Use LINE? Want to tell Tony what you think of his post? Comment normally, and Tony and I will both be reading the comments. And P.S., if you've got an idea for an Otaku Journalist guest post on anime, fandom, subculture, or journalism, send it my way!